At the just-concluded Automechanika in Shanghai, visitors who came to EAE booth would stop and touch the coating of our lifts time and again.
Some visitors would ask, "Is this really made in China?"
Some dealers would tell, "There are several other competitors at the exhibition who also colored their lifts in orange and grey."
Some other viewers exclaimed, "Wow, I have never seen such a huge vehicle lift before. This is amazing! "
Some of the regular customers would frankly commend, "At first glance, I know that your lifts are attentively designed and made."
Wow! There are so many doubts, so many exclamations and so many attentions to us just because the vehicle lifts can really be made like this.
Just follow me to see why EAE is distinctive among so many other lifts suppliers in China.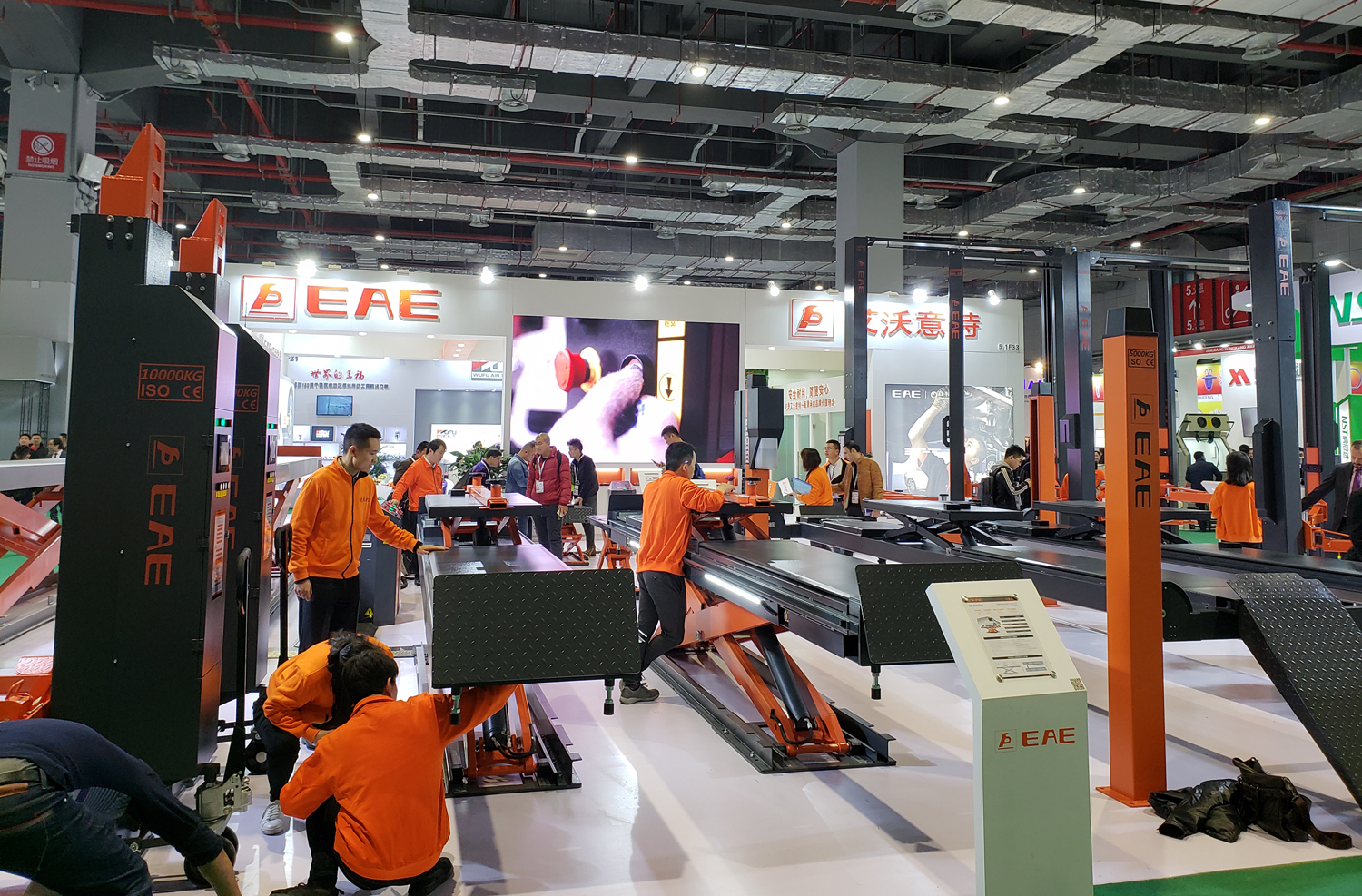 Display with distinctively new lifts
1 、The latest developed wireless mobile column lifts was firstly show to the public.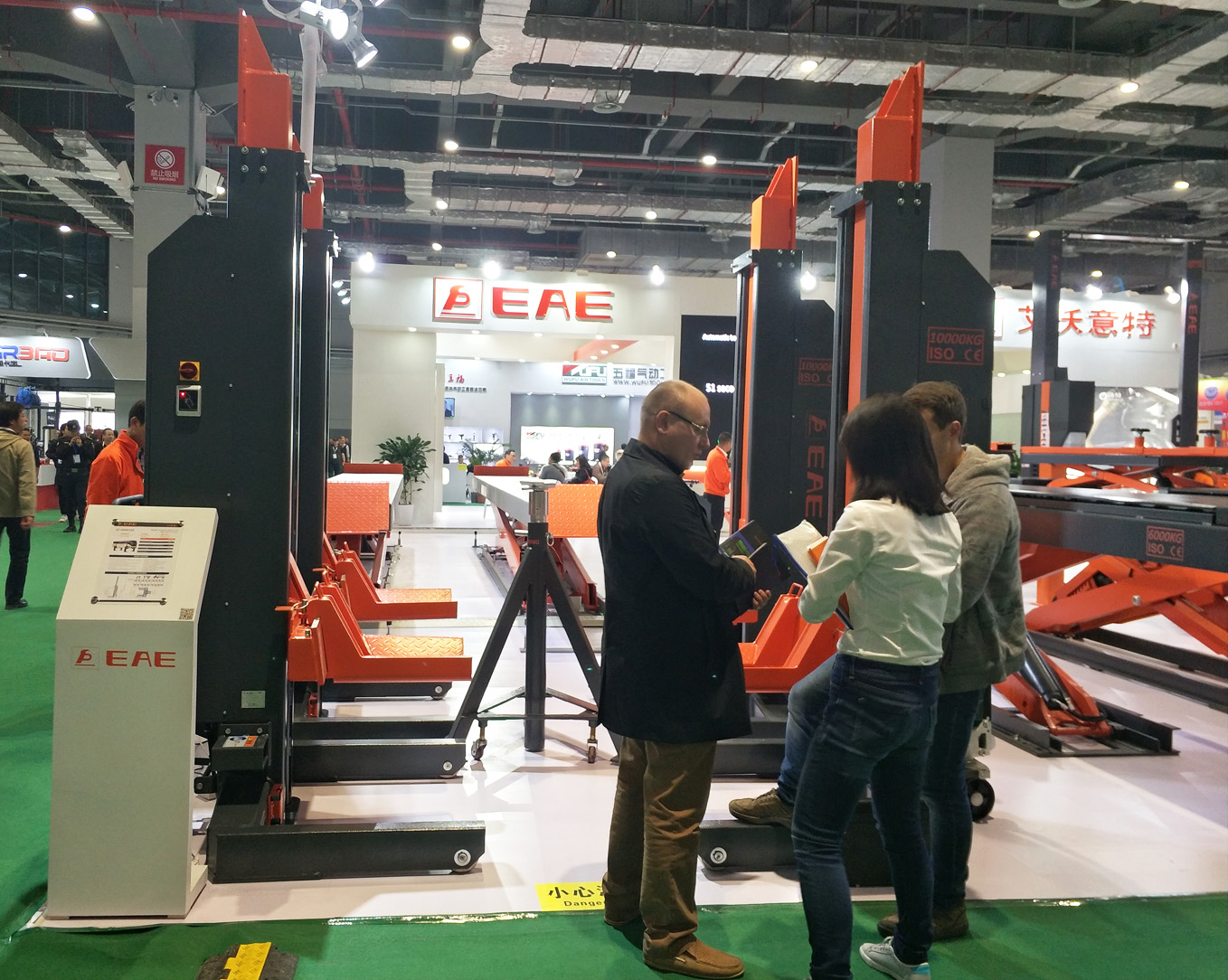 EE-HDM104, interconnected by four single columns (each has a maximum capacity of 10tons), has a super powerful lifting capacity of 40 tons.
Depending on the practical needs, you are able to link 6 columns or 8 columns as a group.
Being interconnected through wireless communication technology, each independent single column can move easily and efficiently.
The control system, composed by microchips, ensure columns in the same group run synchronously.
Moreover, real rising height, battery level and other relevant data are constantly readable on the visual screen.
2、 Grandly launched the intelligent heavy-duty scissor lift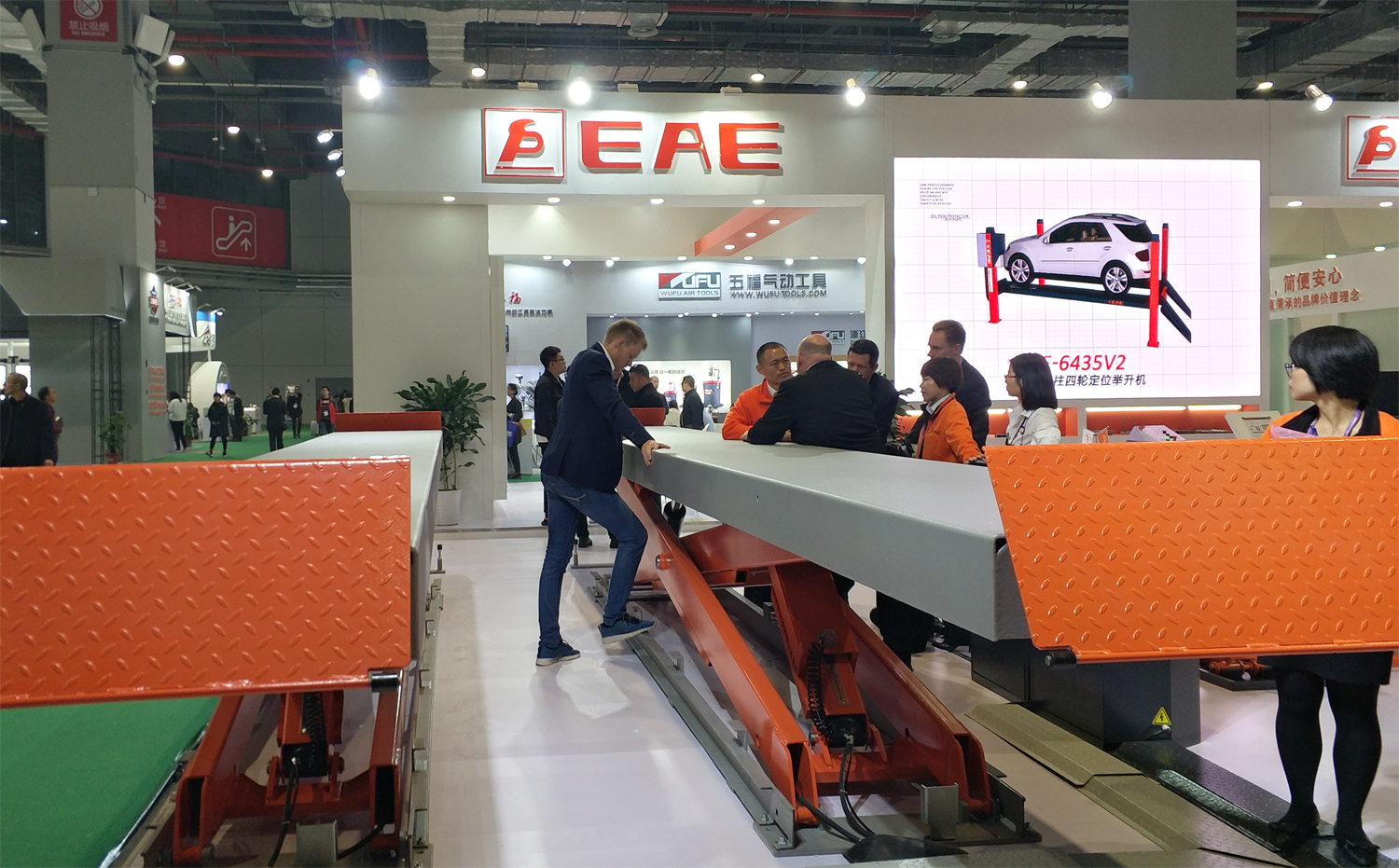 EE-HX15 has a maximum capacity of 15 tons and is able to be extended by combining 2 sets or 3 sets working together.
The maximum lifting capacity reaches up to 45 tons.
Raising height is constantly monitored through the visual screen.
The CLOSED –LOOP control system guards against desynchronization by aligning automatically in every raising and lowering cycles.
3、 Display the latest solutions to dismantling and fixing batteries for electric vehicles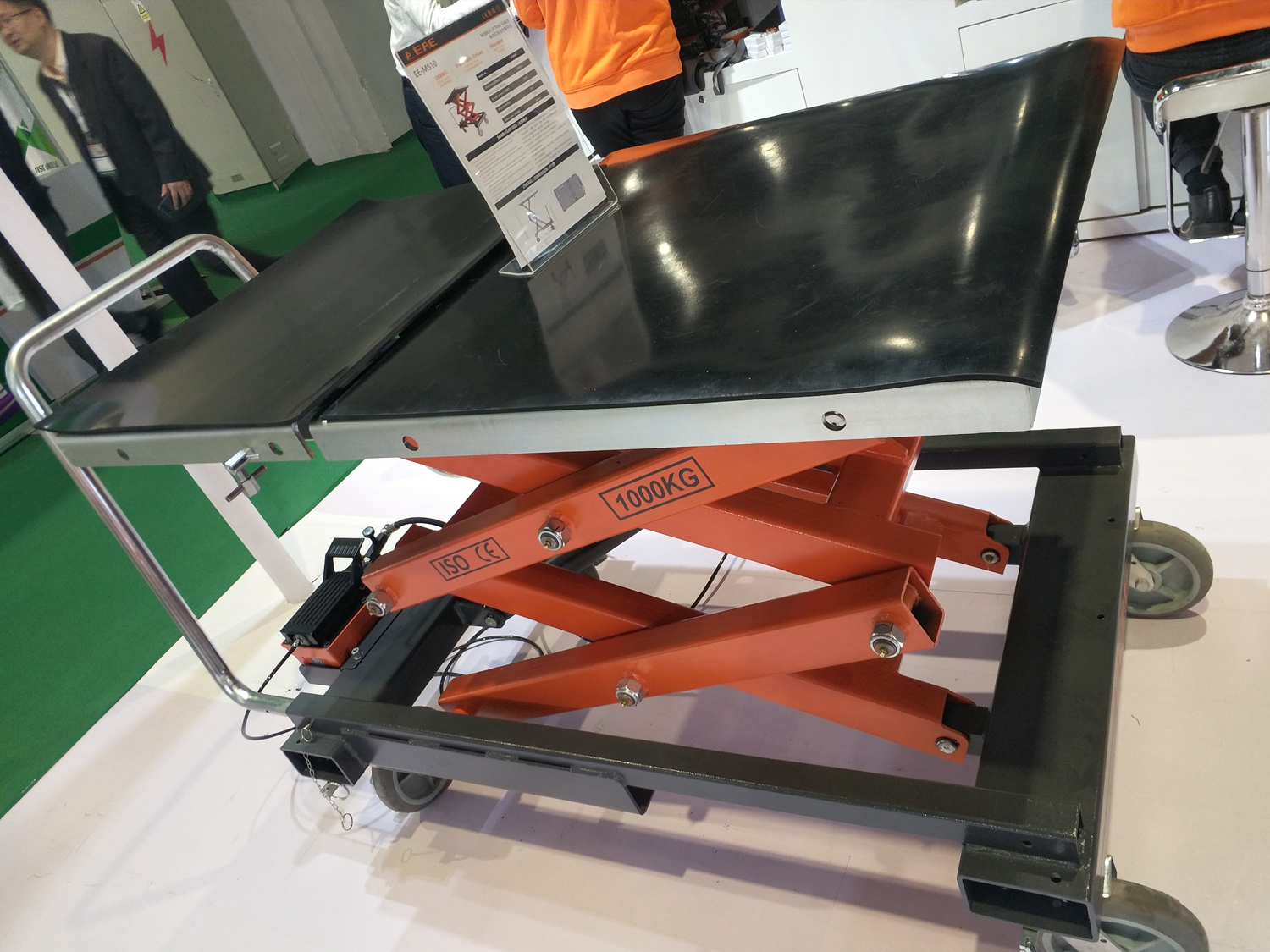 MS10 mobile lifting table is powered by a pneumatic driven hydraulic pump. It lifts fast and accurately by pedaling. No repeated laborious pedaling is required.
Being with a maximum lifting capacity of 1000kg while the lifting table is simply dimensioned 1305 x 790 mm, it is really small figure but with strong ability, isn't it?
In addition, the length of the platform can be extended to 1480 mm to fit longer fixtures.
Moreover, its platform can be tilted to make adjustments to the load which is not horizontal itself. Similarly, there are continuous holes on the platform for positioning and fixing specialized fixtures.
Special classic lift products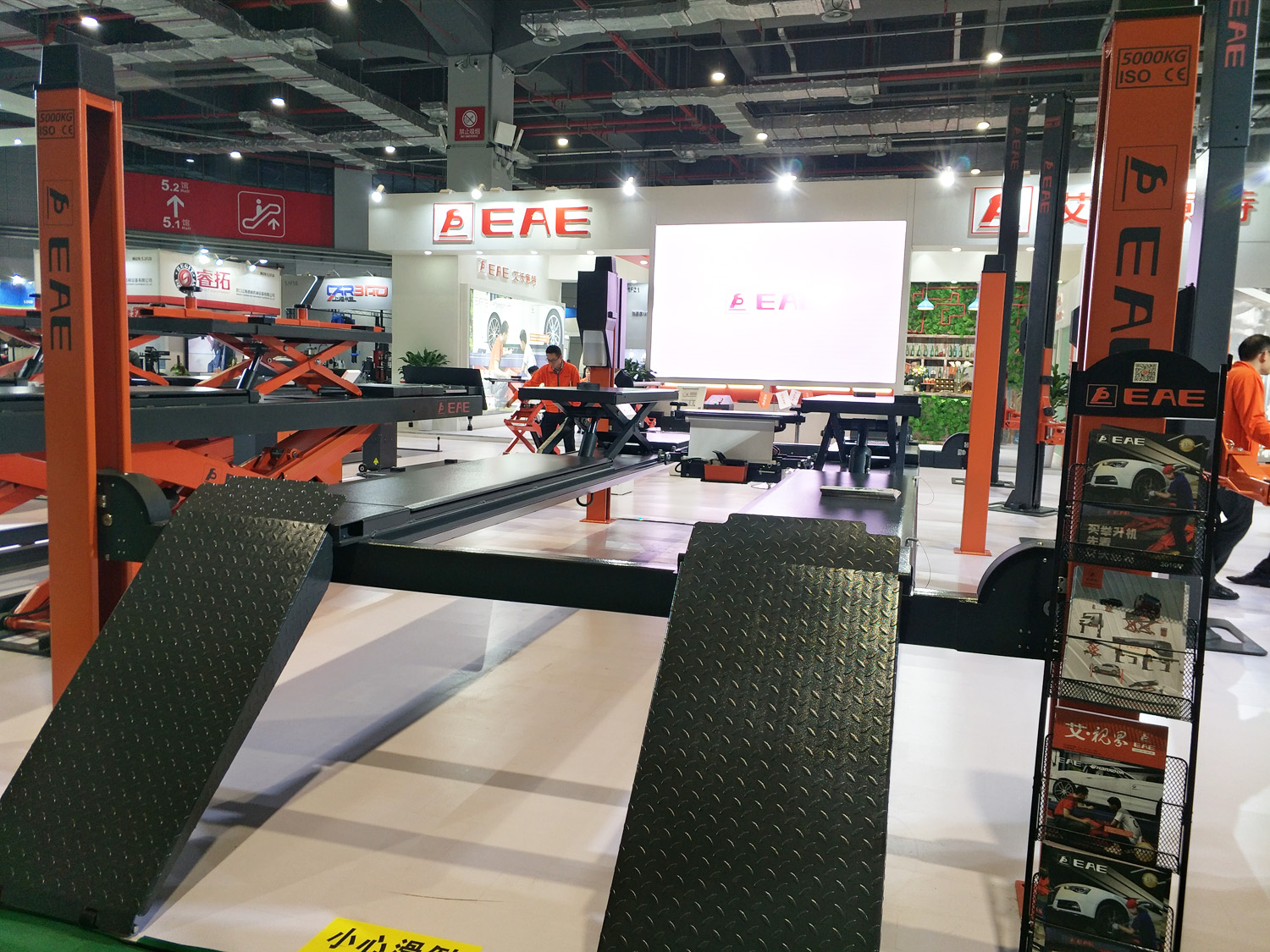 EE-6435V2 Wheel Aligning Four Post Lift
Lifting capacity: 4 tons and 5 tons.
Runway length: UP to 5700mm.
Transverse width between two columns: 3000mm, adaptable to most 3D wheel aligners.
Convenient electrical release.
An initial height of 180mm for easily drive on and off the runway.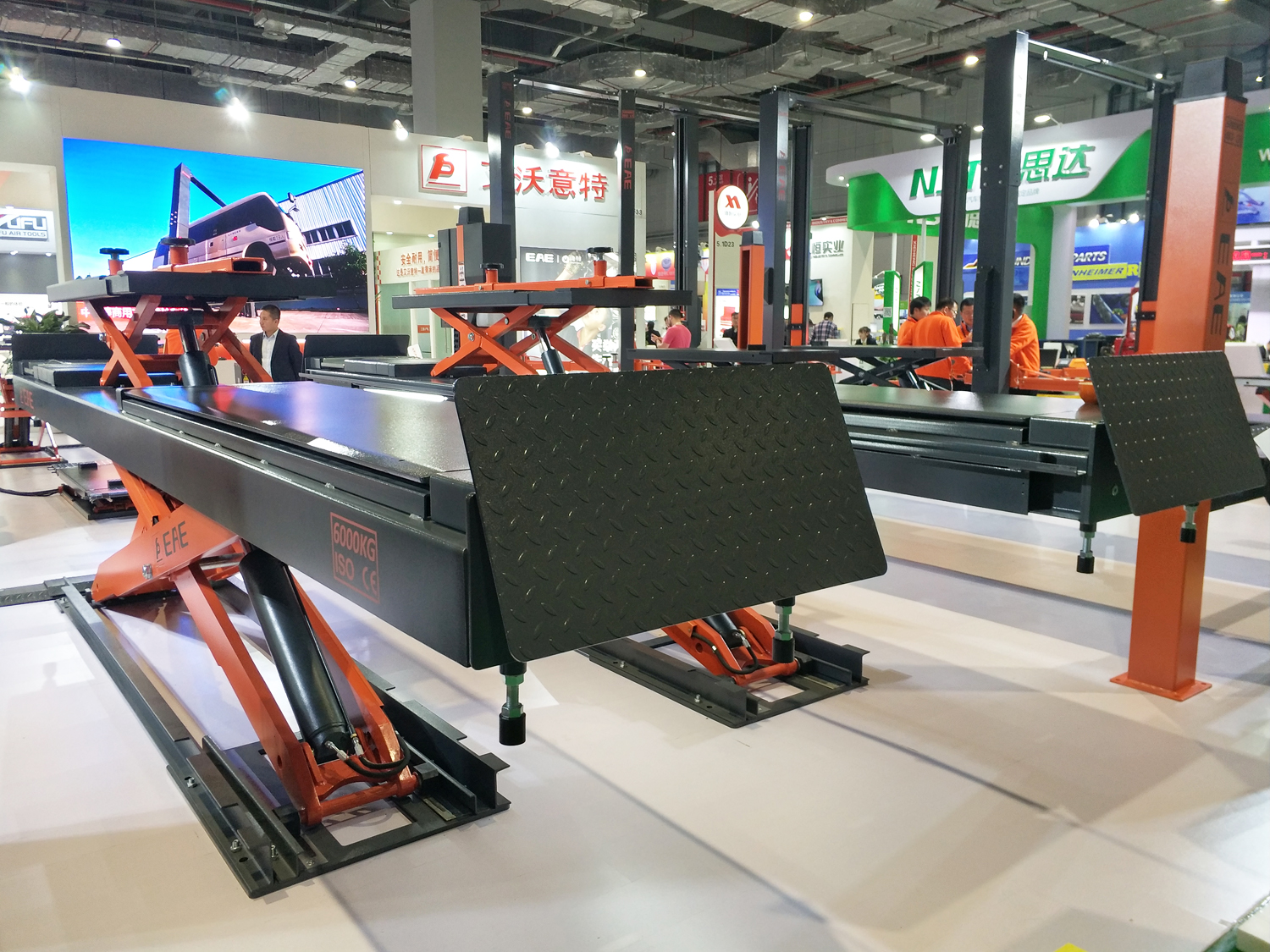 EE-HX6 Wheel Aligning Heavy Duty Scissor lift
Lifting capacity: 6 tons.
Runway length: 5400mm.
Standard with synchronization protecting device, pneumatic controlled slip plates and magnetic LED lamp.
Single-end extendable wheel free lifting platform used with optional SUV adapter can meet requirements for quick inspection, wheel and aligning service for most vehicles under 6 tons.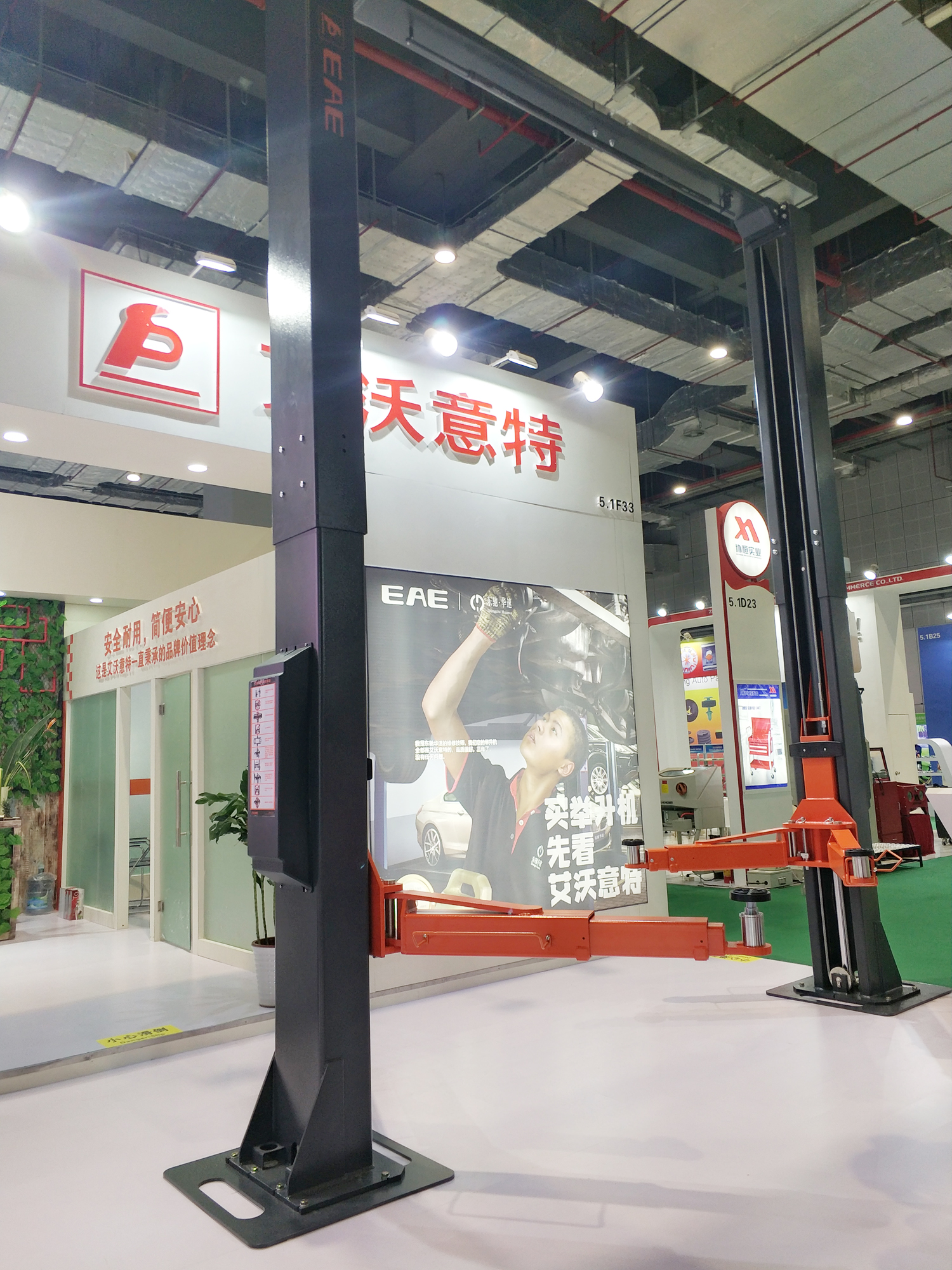 EE-C series clear floor two post lift
Lifting capacity: 6 tons and 8 tons.
Electrical release, time and labor saving.
Mechanical safety locking unit and limit switch for maximum height.
Run more stably with cylinder straight top device.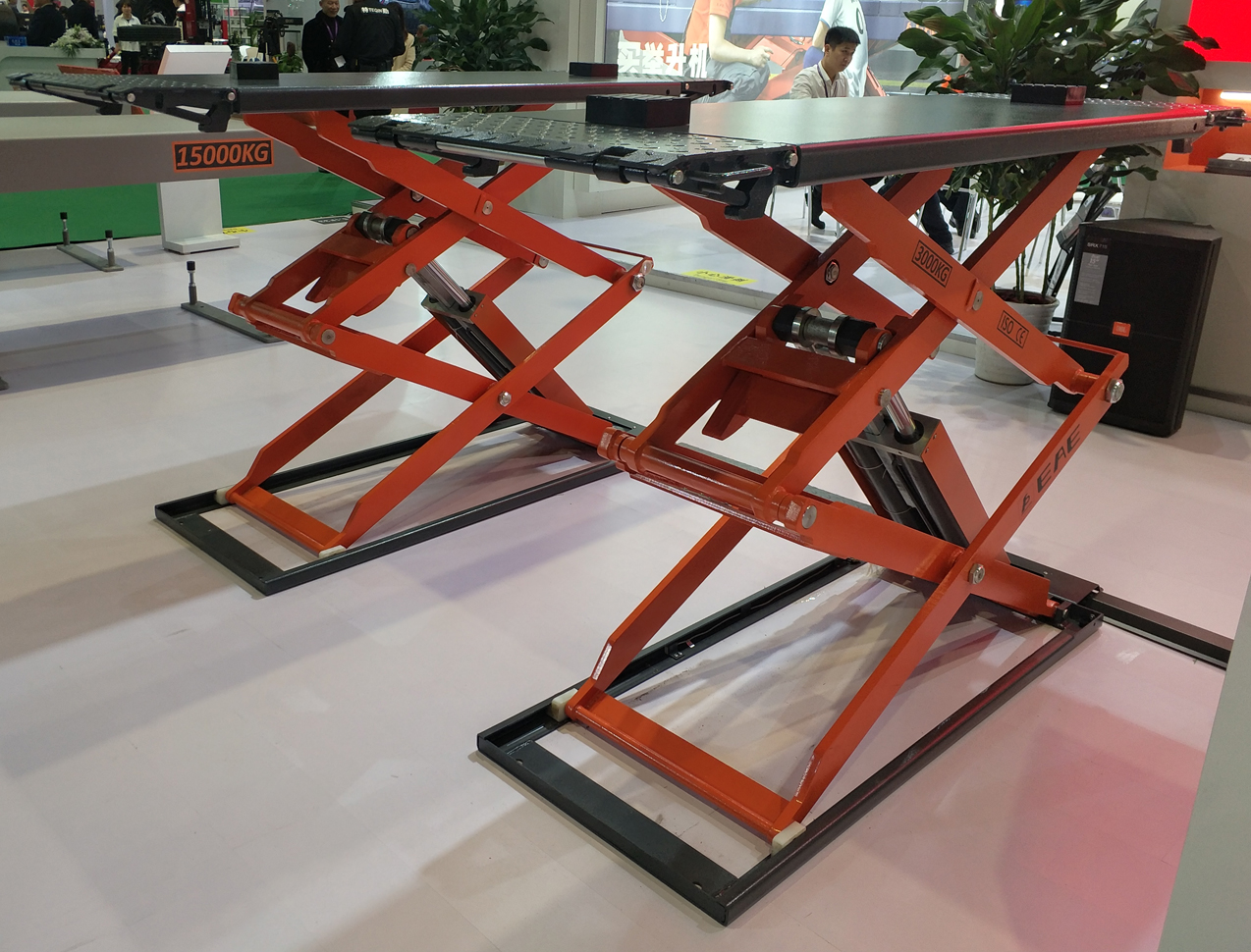 EE-6501V2 Full rise base frame engaging scissor lift with automatic levelling system
Traditional levelling operation has to be done manually by repeatedly pushing the control buttons and turning on and off the corresponding hydraulic valve. It is time consuming and inaccurate. EAE innovatively developed our own Automatic Leveling System (ALS). You will never be bothered by desynchronization problems in future use.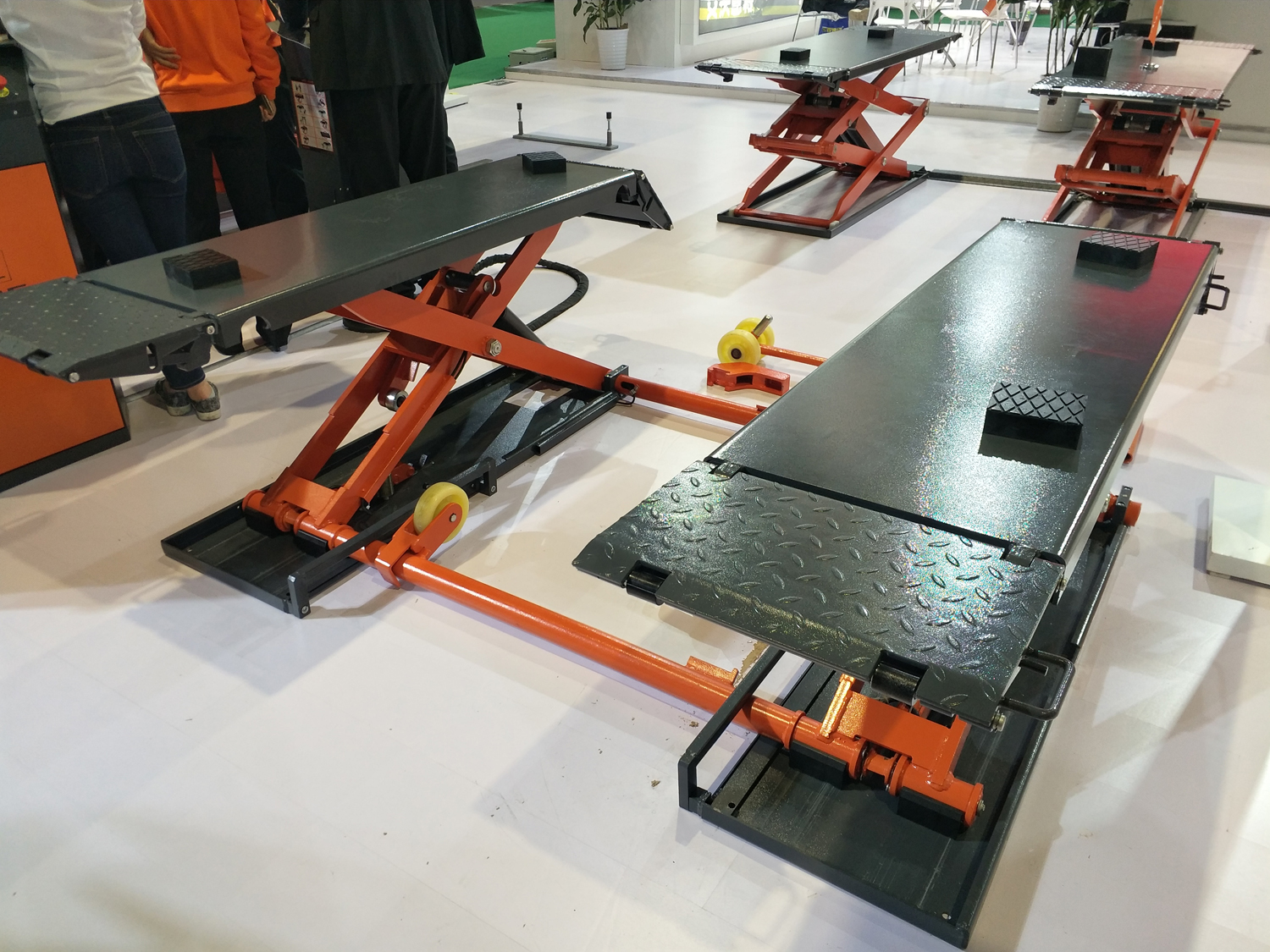 EE-MR35 Mobile middle rise scissor lift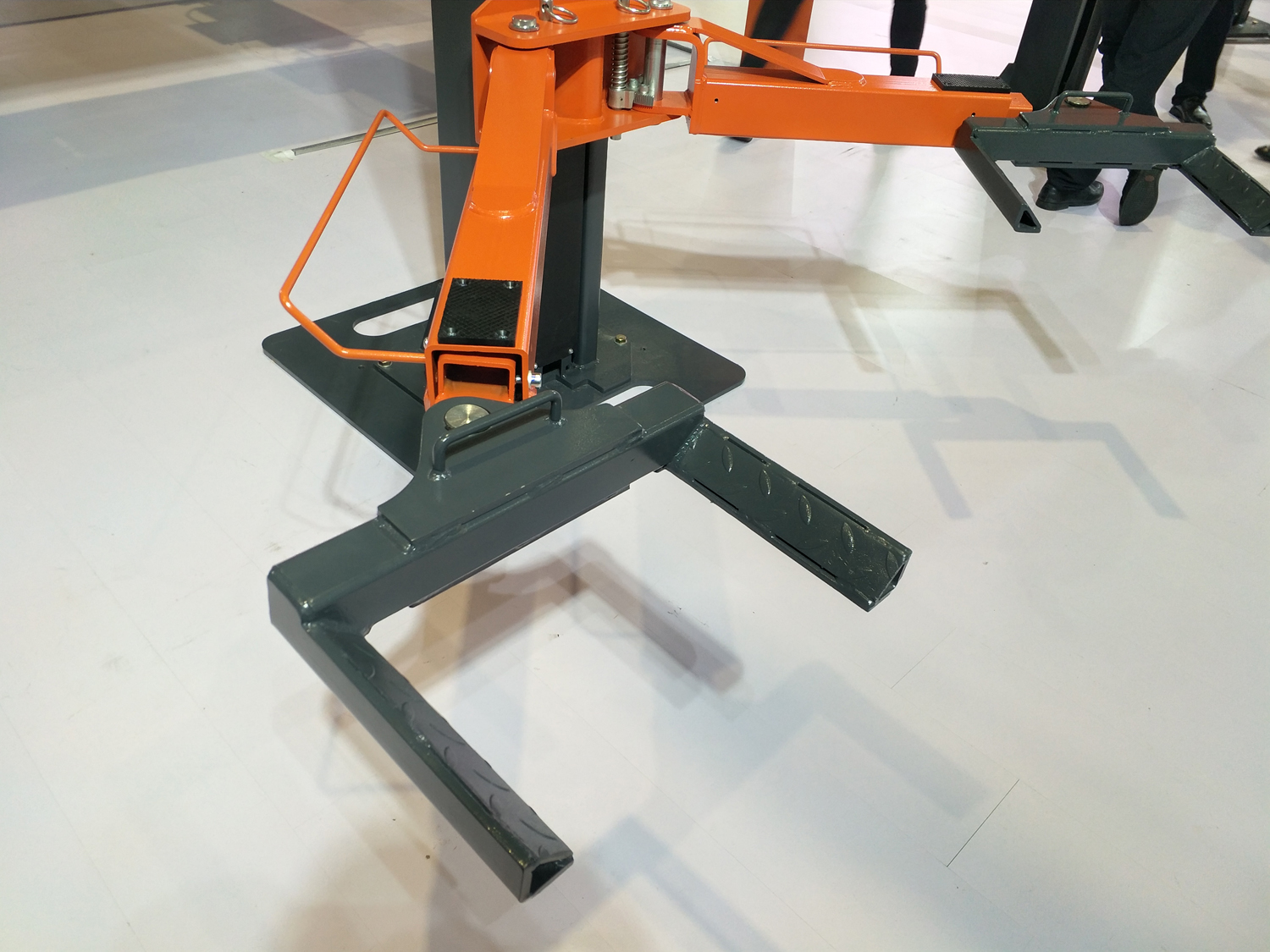 Optional tire engaging bracket for two post lift
It helps great for lifting electric vehicles and fuel vehicles with super low profile and vehicles which you are uncertain about pick-up points.
Unique design in the exhibition booth
The booth is designed adopting all possible humanized factors to make it looks not only professional but also be very cozy to the visitors.
With an exhibiting area of 300 square meters, a display screen dimensioned 12 square meters and various tea breaks, EAE have been one of most popular booths at the exhibition hall.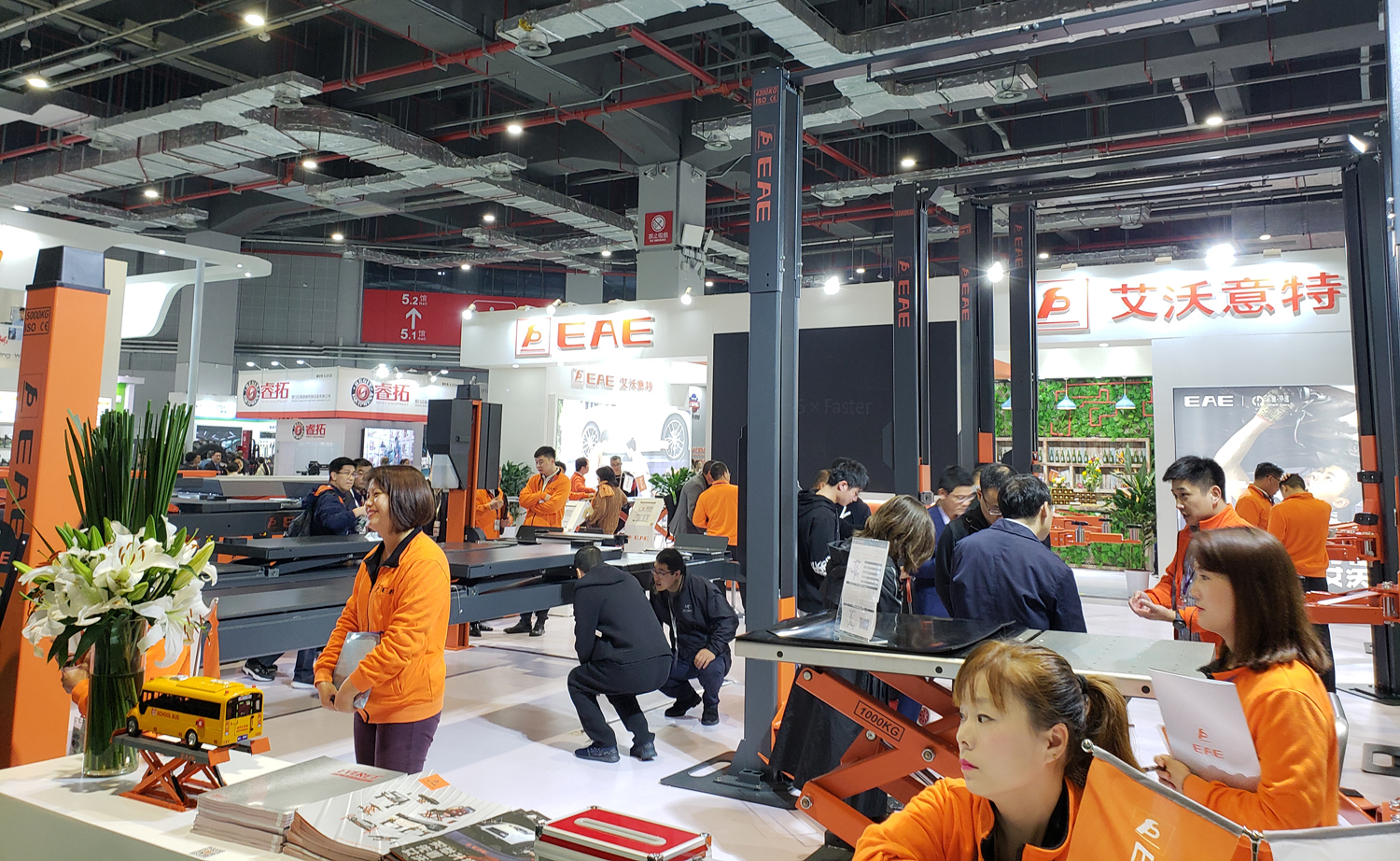 Special awards
During the Automechanika Shanghai Exhibition in Shanghai in 2018, EAE won three special awards which can fully demonstrate that EAE lifts are widely recognized by industry experts, media, distributors and end users. It is also a great encouragement and a powerful spur to us.
In the future, EAE will continue focusing on the automotive lift industry by providing users with the most professional automotive lift equipment to enhance the efficiency of the automotive maintenance market.